Cheerleading in the United States has a long history. In the country cheerleading is a cult and almost every American woman dreams of joining a high school, college, and then professional club team. Support groups are associated with sports as team mascots.
How much do the NBA cheerleaders make? Despite a rich history and culture of cheerleading in the United States, according to the statistics, professional cheerleaders in the NBA currently earn between $75 and $150 per game. The payment could vary slightly, however.
Cheerleading became world-famous only in 1956 when the pom-poms of American dancers appeared. At the same time, the support of professional football clubs came into vogue. In this article we will talk more about the essence of cheerleading as well as salaries and how this discipline over the years.
Revolution of Cheerleading
The Dallas Cowboys club made a revolution in the early 70s. Their cheerleading group abandoned classical acrobatics in favour of fiery dancing. Everything we see in sporting breaks today was invented over three decades ago in the United States.
American cheerleaders see dancing as a profitable business. For the United States, sports are part of the entertainment industry designed to generate audience and financial gain. To get into the group, girls go through a rigorous selection process. A girl must have dance and choreographic training. The main thing is not to be ashamed to dance beautifully, not to lower your eyes to the floor.
The Essence of Cheerleading
Today, cheerleading is not just beautiful girls jumping in sports, but also a completely independent sport: teams compete with each other, national and world cheerleading championships are held. Researchers have found that dances, chants and smiles of cheerleaders help to calm down heated fans of sports.
There are several misconceptions about cheerleading. Cheerleaders perform not only before NBA games, but also during other important events, ceremonies in schools and universities, military units. You can join a cheerleading team without any special training. Girls are taken in height from 170 to 180 centimetres, with a good figure, a beautiful face sports training (gymnastics, sports dances). And even after the girl is accepted into the team, she trains for at least a year.
Cheerleading and Women
Cheerleading is an exclusively female sport. By the way, initially, when such a movement was just emerging, the first "cheerleaders" were young men. And today there are many mixed teams. Cheerleaders are prohibited from wearing tights and any jewellery other than stud earrings. 50% of all sports injuries in the United States are due to cheerleader injuries. The United States has its own cheerleader union and has recently been paid amounts that cannot be lower than the minimum wage (about $10 per hour). Moreover, for some clubs, the training time is also taken into account, and not only the performance time. In total in the US, a cheerleader makes an average of $200-400 per month.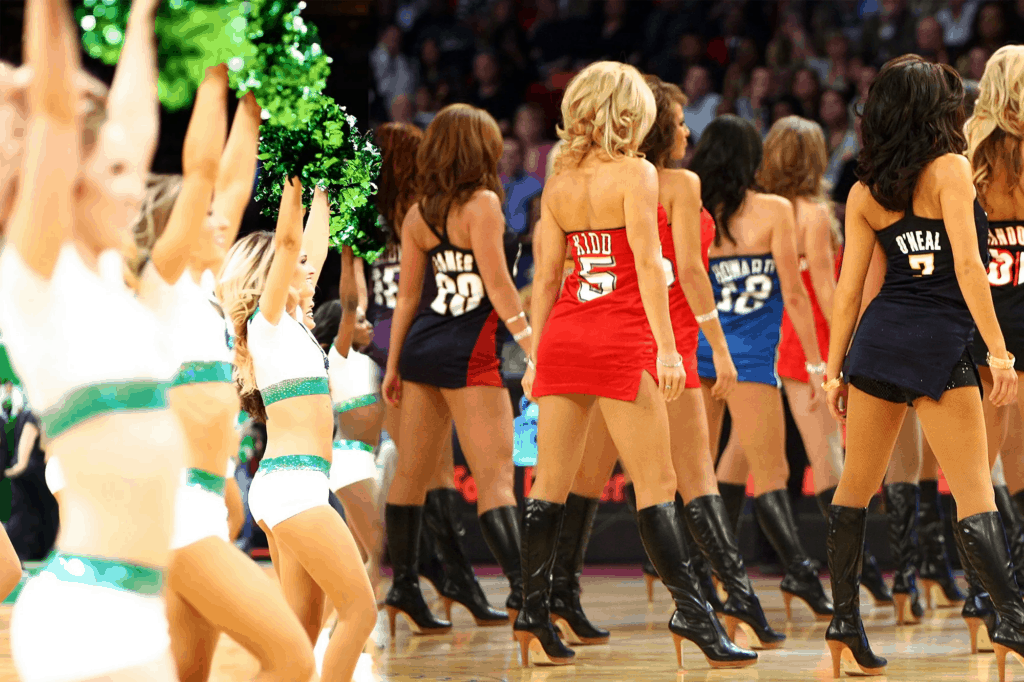 What Additional Benefits do Cheerleaders Get?
We should point out that while the salaries of cheerleaders might seem mediocre, there are additional benefits that these girls get for being in a team. The first one is free use of the gym. They are allowed to train whenever they want and this is a huge advantage to keep in a shape without paying a single penny. At the same time, they get free game tickets for their favourite teams. There are many cheerleaders that are particularly fond of basketball and they can watch games of LeBron James, Steph Curry, Kevin Durant and many more without additional charge. Free parking is another advantage. Those who are coming to training by car are allowed to park their cars without paying extra money. Finally, we can mention spa treatments. Each team in the NBA has particular regulations and additional benefits that they apply to their cheerleaders. However, they are not too different from each other.
Is Cheerleading Difficult?
At the beginning of the article, we have mentioned that the salary of cheerleaders may not be proportional to the difficulties that girls go through before every match. Yet, it is difficult not to agree with them. Prior to every match, girls are training very hard to impress during breaks. Frequently they perform tricks and jumps that may seem impossible to execute at the first glance. With training everything becomes feasible and sometimes cheerleaders spend more than 8 hours every day to become the best versions of themselves.
Is It Hard to Become a Cheerleader?
Actually, it is difficult to become a cheerleader because every girl needs to overcome an obstacle standing in front of her way. First of all, they need to fill an application and it is not a simple task to show off in front of an NBA team, because the competition is huge. Massive experience is needed to be eligible for a cheerleading team.
Fighting for the Rights
Women in cheerleading are not sitting idly by and have already begun to fight for their rights. In April 2017, the Milwaukee Bucks basketball club lost a lawsuit against former cheerleader Lauren Herington – a court ordered her to be compensated for the team's failure to comply with labour standards. The plaintiff claimed that, on average, the dancers spent 30-40 hours a week rehearsing, training, charity events and performing at games. Despite this, she said, their salary was only $65 per game and $30-50 for special events. With the total amount of time worked, it came out to be about four dollars an hour.