Each year, the upcoming NBA Draft prospects are put to the test both mentally and physically. These tests are supposed to determine if a player is at the top of their game and has potential to take their team to the next level. The first step in that grueling process is the combine. What happens at the NBA Draft combine though?
What Happens at the NBA Draft Combine? The NBA Draft Combine is spread across multiple days and takes place every year during the month of May. Draft hopefuls get to take medical tests to prove their health and have all of their measurements recorded. Interviews are held between the players and NBA teams. Most significantly, drills get underway so players can showcase their physical and technical skills. There are even five-on-five scrimmages that are held to show what these players can do in real game situations. There is no requirement for someone entering the NBA Draft to attend the Draft combine.
Each one of the players in the combine could get themselves a higher draft projection by having themselves a terrific combine performance. Whether you have incredible interviews or perform beautifully in some of the drills available, teams could think of you much higher than ever before after seeing you up close.
What Measurements Are Taken?
One of the first steps in getting a player ready at the NBA Draft combine is getting all of their measurements sorted out. This usually comes alongside their medical history being checked over and looked at so that the player doesn't seriously reinjure a previous sprain or fracture that they could have suffered earlier. Among the measurements that are taken from each player are their height with shoes on, their height with shoes off, weight, wingspan, body fat, hand length, hand width and standing reach. These measurements are highly regarded by coaches and staff because there is a certain threshold that players need to cross which has a correlation to future success. For example, a long wingspan could help a player shoot over his defender more often. Then on the other end, that wingspan could be used to defend his matchup far more efficiently than other players can, making him more valuable. Another example would be body fat. If a player is way off from the recommended body fat at the time of his measurement, then teams would take that into account. 48 minutes of NBA basketball certainly takes a toll on your body, and being unconditioned isn't something that teams want out of their players. Especially as they have worked since childhood to give themselves the best chance of being selected in the NBA draft, if they aren't in shape now – will they ever be?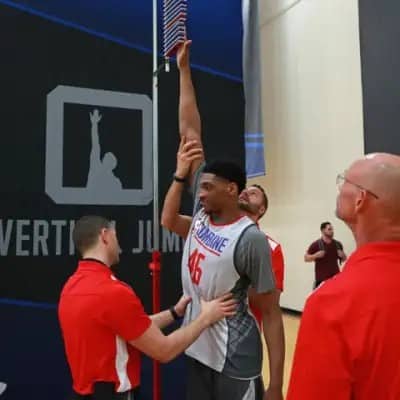 Athletic Drills
Once these players get all their medical history checked out and their measurements taken, they move into the physical drills. These drills include the vertical jump with no steps, vertical jump with steps, lane agility time, bench press, three quarter court sprint time, spot-up shooting, off the dribble shooting and three-point field goals at high school, college and NBA distances.Obviously, the shooting drills are all incredibly important for teams to look at due to how important shooting has become in the league today. If you can't shoot, you become a severe liability on the floor due to lack of spacing. The other important drills are really the lane agility one. This helps teams determine a prospect's ability to slide from sideline to sideline and stay in front of a defender. It also could show a lot of potential at avoiding screens and staying on top of their matchup regardless of the situation. Another big drill that teams look at is the vertical. Leaping ability has always been a great sign of athleticism in the NBA community and could help show teams what type of explosiveness a certain player has. We all know how nice it is to have a player on your roster that can dunk the ball with ease and not be affected by other players standing in his way.
How Do Players Get Invited to the Combine?
It's actually really difficult to get invited to the NBA combine. There are 60 players drafted every single season throughout two rounds. However, less than 100 prospects receive invitations to the combine every year. While that may seem like a lot, there are a ton of players every season that go undrafted. There is immense competition to get a spot at one of these combines, but the NBA makes it clear that only the most distinctive athletes at the college basketball level will be able to get an invitation. Most recently, we just wrapped up the 2021-22 NBA Draft. It has been reported that only 69 players were able to get an invite to the combine this season. Some may overlook how difficult it is to get into the combine, but that shouldn't ever be the case. We could even see the invitations being brought down even further in upcoming years. For the players that aren't able to get an invitation to this process, don't panic. Sometimes players are able to contact the league office and get themselves an invitation if they have no other option. If that doesn't work, the NBA G-League always offers a fresh start and new opportunities. Even going overseas to play for other leagues like the Spanish League, Australian Basketball League and the Italian League.
Interview Process
Some players believe that the interviews are the easiest part of the NBA Draft combine. However, others completely overthink their answers and wind up crashing their draft stock due to poor interviews. When each team meets up with a prospect, they take a nice evaluation of the player and determine their key skills and team dynamics. Among some of the things they look for are mental toughness, awareness, leadership potential, internal motivation, influence, presence, adaptability, accepting instructions and having resistance to burnout. If you are able to prove to the coaches that you are great at all of these things then you certainly give yourself a far better chance to get selected higher up in the draft than before. For most teams with high overall picks in the upcoming draft, they definitely don't want to sit down with a franchise altering prospect that takes everything immaturely. You want a concise leader to change your organization's fortunes, and the interview process helps determine if you are the correct man for the job.