Making their NBA debut in the 1988/89 season the Heat would have to wait until 2006 to win their first NBA title. The iconic images of Wade and Shaq celebrating in their red Miami Heat Jersey's holding the Larry O'Brien trophy aloft wouldn't be the last title they would win. Lebron James joined Wade in 2010, bringing Chris Bosh with him as the "Heatles" pulled on the now famous Miami Heat Jersey's, two more titles would follow. As the Heat enter the 2019/20 season with their roster not yet complete it's unlikely, we will see another title on South Beach this year. However, with the addition of Jimmy Butler fans can expect to see another NBA legend creating some memories in a Miami Heat Jersey. I'm sure Butler will himself be targeting the games he gets to wear the popular City Jersey as an opportunity to make some big plays.
The Miami Heat have announced 4 Jersey's so far for this year. Following on from last season we have the white Association, red Icon, black Statement and Miami Vice inspired City Jersey all returning.
The Association jersey will be used primarily for home games.
The Icon is the primary road jersey.
The Statement jersey is the alternate and usually gets a lot of use, home and on the road.
The City Jersey will be used sparingly on NBA themed weeks. It is sure to continue to be highly sought after.
As proud as Heat fans all over the world are going to be to wear Jimmy Butler's number 22 jersey this year. Until he wins some hardware for them it's never going to be considered one of the Miami Heat's most iconic jersey's. Let's take a look at what they might be.
Top Three Iconic Miami Heat Team Jersey's of All Time
Miami Heat Alternate Jersey 2005/2006 season
Three words. Shaq, Zo, Title. With a front court containing both Shaquille O'Neil and Alonzo Mourning this kit couldn't fail to become iconic.
Add to the mix the Heat's first NBA title and a young Dwayne Wade and you have one of the coolest kits ever made. Primarily black with the pink and gold rainbow stripes down the side, the slightly off-centre number and logo. It's unique and utterly memorable. This jersey is still available to buy for those fans that haven't yet added to their collection.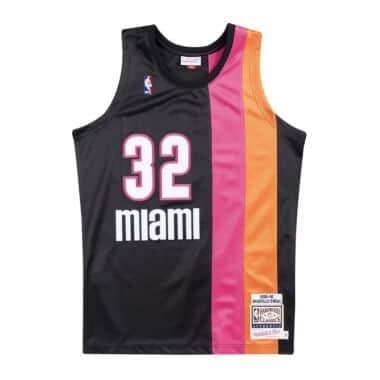 Miami Heat White 2011/12 season
The "Heatles" first title win in 2011/12 made sure that the big 3 of Lebron, Wade and Bosh would live long in the memory of the Miami Heat fans.
With Lebron wearing number "23" again for Cleveland and the Lakers it seems that that iconic number "6" jersey he wore on South Beach will forever be linked solely with the Heat.
Miami Heat Vice Nights 2018/19 season
When the Heat unveiled the below promo video for their new Vice Nights jersey, it was obvious it was going to be a HUGE hit.
The Team may have been a solid group of future prospects built around future hall of famer Dwayne Wades retirement tour, but that didn't mean they couldn't own one of the coolest kits ever to hit the hardwood.
I was going write some more. Instead I suggest you just hit play on that video again and then go order one in your size!
Go Heat!