Phil Jackson is the most decorated coach in NBA history. 11 championship titles in the best league in the world – something unthinkable that seems impossible to repeat. Jackson won titles with 2 different teams – the Chicago Bulls (1991, 1992, 1993 & 1996, 1997, 1998) and the Los Angeles Lakers (2000, 2001, 2002 & 2009, 2010). His closest pursuer, Red Auerbach, won the NBA nine times coaching the Boston Celtics. The third-place finishers, Pat Riley (5), Greg Popovich (5), and John Kundla (5), great as they are lag, far behind the Zen Master.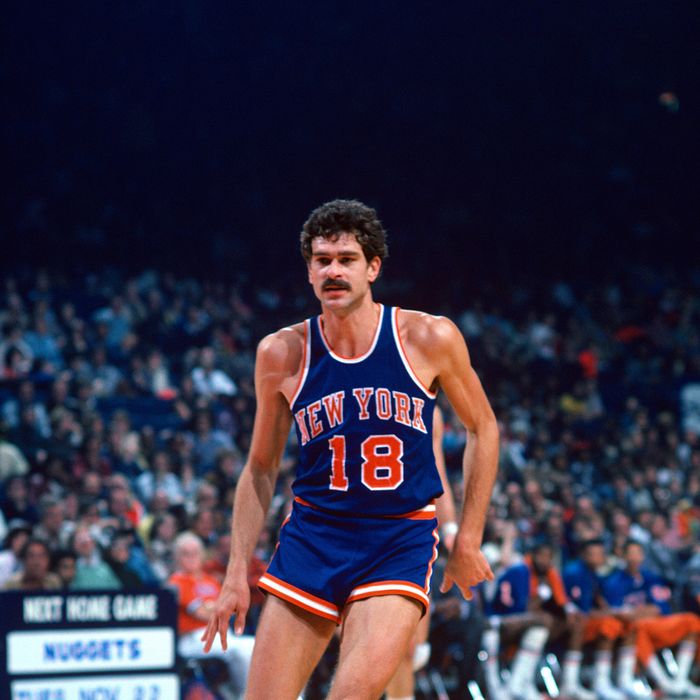 Jackson perfectly managed superstars with difficult character traits, getting them to buy into the concept of team, or the team to buy into the concept of them – depending what was needed with any given group of players. With the Chicago Bulls, he managed to rally Michael Jordan, Scottie Pippen, and later Dennis Rodman to an almost unpresidented level of success through the 1990s. He then moved onto the Lakers transforming the binary stars of Shaq and Kobe into an all world destroying dynasty that won three titles in a row and ALMOST swept the playoffs in 2001, losing only the first game of the Finals. Later Phil Jackson would re-invent the Kobe Lakers without Shaq and guide them to two more titles.
However little do people know that Phil Jackson was also a professional player in the NBA. Of course, every basketball fan remembers him for his deeds in his coaching career, but after graduating college, he spent eleven years with the New York Knicks, twice becoming an NBA champion, and two years with the New Jersey Nets. At the end of his debut season, he was included in the NBA's first rookie team. Let's have a closer look at his career in the NBA which lasted from 1967 to 1980.
College Basketball
Before we move to the NBA it is necessary to point out that at the college level he was a part of the University of North Dakota team, with Jackson assisting in securing third and fourth places in the NCAA Division II tournament. While studying at the University of North Dakota, Jackson received a basketball scholarship and twice participated in All-star matches.
However, both of these years were eventually unsuccessful for Phil Jackson as his team was beaten twice by the Southern Illinois Salukis, where the famous Walt Frazier – Jackson's future Knicks teammate – played. It was not a long before Phil was drafted to the NBA with the 17th pick of the 1967 NBA draft, by the New York Knicks.
NBA Career
Phil Jackson mainly played as a power forward. He was a very athletic, tall, and energetic player, but limitations to his offensive game sometimes hampered him. Although Jackson was very intelligent and hard-working, it was on defense that he earned his living, doing the dirty work. Even though he initially had little playing time, Jackon quickly became one of the favorites with the blue collar Knicks fans. This work ethic would eventually him a strong rotation place on the team. In 1968 he earned a place in the NBA All-Rookie First team, which was indeed a notable achievement for a player not highly rated coming out of college.
In 1970, the Knicks became champions, but Phil Jackson was forced to miss the season due to the injury. Even though he missed the season, Jackson authored a book about the Knicks' championship season.
However, during the 1973 championship season, he was a key player and helped the team to the title. after 1973 several players from the Knicks retired and a new opportunity arose for Phil Jackson, who made it to the starting lineup. In the season, he was a "leader" with 330 personal fouls alongside Bob Dandridge. In 1978, Jackson moved to the New Jersey Nets, where after playing 2 seasons he retired at the age of 35, pursuing a coaching career. During his playing years, Phil Jackson had 5,428 points, 3,454 rebounds, and 898 assists – pretty decent stats for the player who was mainly busy with executing defensive activity for the teams, and not everything can be recorded by statistics. Maybe why he was able toget so much out of players like Rodman and Artest later on in his coaching career.
Coaching Career
Jackson began his coaching career as a coach for the New Jersey Nets. He worked for a time as a sports commentator on television and spent four years in the Continental Basketball Association as head coach of Albany Patroons. In 1987, Jackson joined the Bulls as an assistant coach, after Doug Collins left the team as head coach.
Phil Jackson, before Game 5 of the 2008-09 NBA Finals, recalled that as a teenager, he watched the Boston Celtics win nine titles in 10 years (1956-1966). reflecting on not only how he had won an NBA championship title as a player, but that he would go on to coach the unforgettable Chicago Bulls as they also torched the NBA for a decade, winning 6 titles in the 90's alone.
A sad end to the career?
Jackson has a lot of fans and a lot of opponents. He is reproached that he comes to already-established teams and pushes them over the top, rather than building winning from within. "It's easy to win with Jordan or Pippen, Bryant or O'Neal. Let him win something without them," opponents like to say. To which Jackson replies: "I'm not out of my mind to give up the services of strong players. Over the years, I have noticed that the more often a coach wins, the more they try to devalue his victories. You'll think of five or seven league titles. But if someone manages to achieve victory, especially controversial and unconvincing, he becomes a hero. His success will be celebrated for many years to come. I don't care about the critics, though. Let them say thank you for giving them a job."
The Basketball Hall of Famer does not yet have a stand named Phil Jackson. But sooner or later he'll be there. With his victories, the former coach has already put himself on a par with the great Red Auerbach, Chuck Daly, Red Holzman.
Phil Jackson will forever remain a legend of world basketball. Unfortunately after his time as GM of the Knicks he failed to leave the NBA on a (metaphorical) high. Time will surely fade that failure into oblivion and the 11 titles he won as a coach will remain the core of his great legacy.